Click the download link if file fails to automatically download.
When prompted to download, a box should pop up that looks like this: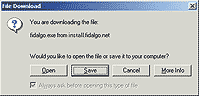 (Screenshot from Microsoft Internet Explorer)
Click the SAVE button and save the program to your desktop.
You should now notice an icon on your desktop that looks like this:



Double click the "fidalgo.exe" icon to initiate the setup process.

You will now see a box that looks like the image on the right.